We are a TICA Outstanding & CFA Cattery of Excellence located in British Columbia, Canada.
Our cattery is managed by a family of dedicated cat lovers who are passionate about breeding and raising beautiful, healthy, and well-tempered Maine Coon cats. We believe in providing our cats with the best possible care, and we ensure that they are healthy, happy, and well-socialized. We carefully screen our breeding cats for health issues and genetic disorders, and we only breed cats with excellent health, temperament, and breed standards.
At SlowBlink Maine Coons, we exclusively breed Maine Coon cats. We specialize in breeding Black Smoke and Silver Shaded European Maine Coon lines. These unique and visually stunning coat colors are our passion, and we take pride in producing kittens that are healthy, well-adjusted, and meet breed standards. We breed healthy, big, stunning, sweet-tempered, gentle, and loving Maine Coons with large, well-tufted ears, squared muzzles, muscular, well-balanced rectangular bodies, long and flowing tails, impressive lion-like frontal ruff manes, and silky coats that are both smooth and shaggy.
As a registered member of three of the world's leading cat breed organizations — TICA, CFA, & CCA — we pride ourselves on maintaining the highest standards in cat breeding!
We sell Maine Coon kittens — the perfect furry companions — across Canada and United States, and make the adoption process as easy and stress-free as possible.
Beautiful
Maine Coon
Kittens
for Sale
Expect nothing but excellence.
Raised in home

Health certificate

Friendly temperaments

Insurance
Champion bloodlines

European lines

DNA tested

Vaccinated
When you choose SlowBlink MaineCoons as the Maine Coon Breeder of your kitten, you can expect healthy, well-socialized kittens bred from top-quality pedigree lines, along with lifetime support and guidance on kitten care.
Adopt Your Own Maine Coon Kitten!
Kids, Dogs, and Cats Friendly
Comfortable in cold temperatures
Comfortable in hot temperatures
A combination of practical advice, engaging anecdotes, and information. Readers will learn about these majestic creatures' unique traits, needs, and personalities, as well as their history and care.
We hope our passion for Maine Coons is evident and the tips on health, grooming, and training are helpful! Our book highlights the special bond between humans and these gentle giants, emphasizing the magic of their slow, loving blinks.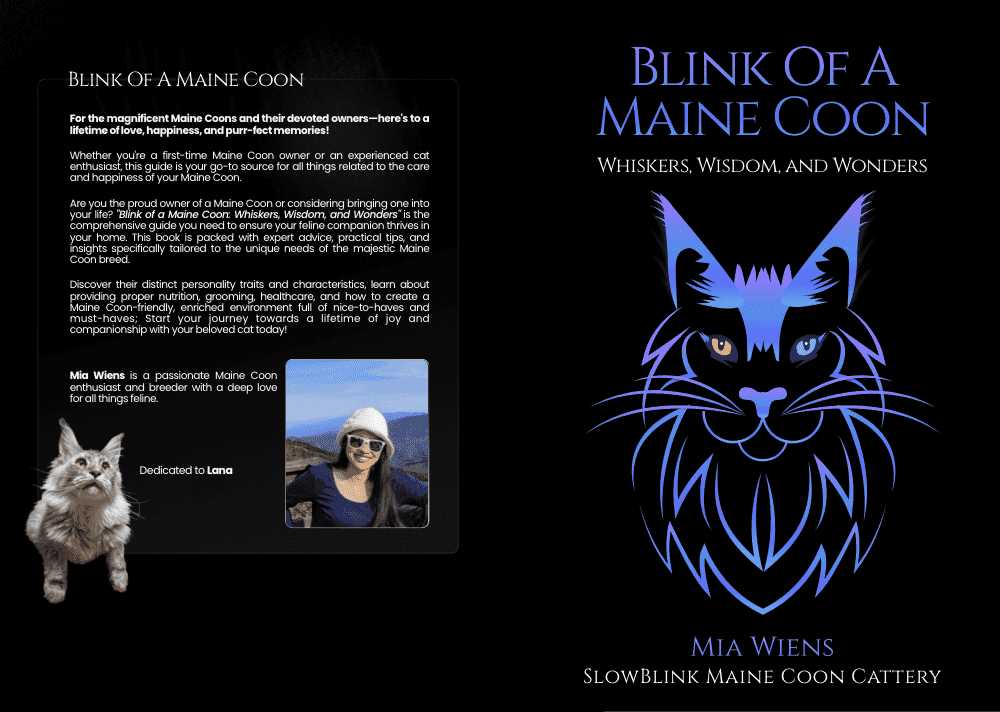 Blink Of A Maine Coon